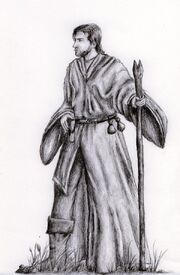 Druid
Game Related Information
Strength Modifier

+0

Endurance Modifier

-5

Intelligence Modifier

+2

Wisdom Modifier

+2

Agility Modifier

+5

Resistance Modifier

-5

Discipline Modifier

+10

Unique Bonuses

+15 using Earth spells, +5 using Elemental spells, +5 range attacks, -5 melee attacks
&nbsp Druids are very skilled magic casters. They worship the earth and everything around it.
Abilities
Edit
They have the ability to use spells related to the earth.