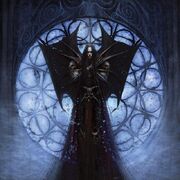 necromancer
Necromancer
Game Related Information
Strength Modifier

12

Endurance Modifier

9

Intelligence Modifier

19

Wisdom Modifier

21

Agility Modifier

13

Resistance Modifier

25

Discipline Modifier

19

Unique Bonuses

+5 undead bonus, -5 penalty for holy resistance, +5 mp
Among the wizards of Ticova, the Necromancers are considered most onerous to the morality of wizardry, yet they remain deeply misunderstood. Arbiters of magickal energy, the necromancer breathes life into the deceased, calling forth revenants to do their bidding. Yet in this giving of life, they also restore the souls of those whose time is not yet nigh and are treasured in desperate times. Yet even as they bring the dead back, they are still feared and mocked for their undying power, always cursed to walk the ways of the dead in the shadow of the living.
Strengths/Weaknesses
Edit
They are vulnerable to Paladin attacks. They are immune to all were attacks, as long as it does not pierce their hearts.